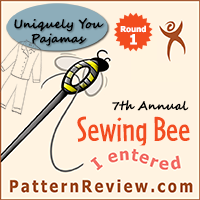 The highly anticipated annual sewing contest at PatternReview.com is back! I have been participating in this online sewing contest since its inception in 2014. I skipped the 3rd one because I was tapped to be the contest manager. I also skipped last year, deciding to take a break after winning it in 2019. But I'm back this year!
If you are not familiar with the PatternReview Sewing Bee, it involves four sewing challenges. For each round, participants are usually given a week to complete it. After each round, a panel of judges pick the entries which move on to the subsequent rounds. Usually the number of entries is cut in half and by the final round only a handful remain to compete.
For this year's first round, the challenge was to sew a pajama top and bottom that is unique to the one who will wear it.
I wrote a comprehensive review which you can read
here
. It details my sewing process and talks about the two patterns I used. In this post, I am sharing detailed photos of the finished PJ bottom and some construction photos, too. I'll talk about the PJ top in a separate post.
For the pants I used Simplicity 8922 which is a pants pattern with various bottom leg options. I chose a view which had a front lower leg band that had a drawstring in the hem. This allowed me to tighten the bottom hem to look like harem pants. I love that feature as I frequently battle with my current PJs when I'm in bed, always pulling down the legs of the pants when they'd ride up. I added a gold corded piping to accentuate the lower band.
Here are close-up photos of the nifty details.
View of the front band on lower leg.
Topstitching on either side of center front seam on leg band. I used wide triple stitches with contrast thread.
View of the drawstring on elasticized waistline. I just added the drawstring to make waistline more adjustable. I sewed a pair of buttonholes for the opening.
Hem relaxed.
View of the inside.
My pj bottoms received couture treatment--underlining, flatlining, hand sewing! The silk organza not only improved the drape of the fabric (which was very clingy to the skin), it also finished the side seams very neatly and allowed me to catch stitch the seams open.
Some prep pictures.
My fabric was an Italian silk jacquard from Marcy Tilton. It was very slippery and drapes so I used tissue paper underneath before cutting.
View of fabric layout. Pattern pieces were cut on single layer.
Vie of the flatlined edges.
Using a 1/4" masking tape as sewing guide for the topstitching on center.